If you are a startup founder you probably know by now that building a startup comes with a very challenging lifestyle. Working on your idea in a startup accelerator is a whole different challenge squeezed into a fixed time-frame.
Before we dive into the in's and out's of startup accelerators, we should remind ourselves that there are many things to think about before any startup founder can turn his idea into a reality. What kind of business model is best? How much will the business cost at the first stage? Where will the business be placed? Who will be the clientele, will it be B2B market or the crowded B2C arena? Are the co-founders the right ones for you? Can the business be successful in times of financial depression? These are just some of the questions that need to be thought about thoroughly before starting any startup business. A competitive startup founder or co-founder must possess competence in decision making, self-discipline, and determination, as well as have excellent personal connections to people in the business world. Although it is a challenge for anyone to start a startup business, it is also a challenge for business employees to be part of a rising company.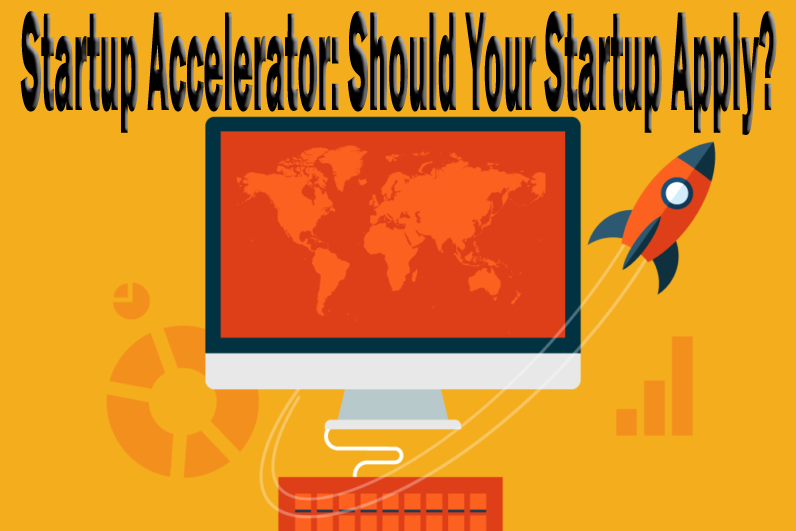 In the past years, there were institutionalized environments that helped and assisted aspiring business women and men in making their business ideas grow. These institutions were called incubators. The first business incubator was founded in 1959. In 1999, several business incubators were born. These are 100X, TechSpace and the HotBank. These incubators boomed along with other tech companies. These incubators offered office spaces for starting companies in exchange for equity. After some time, these organizations changed their models and then offered business and office space for a monthly fee instead of taking equity.
The Startup Accelerator
In 2005, a new version of business incubator was born. It is no longer called an incubator but a Start Up accelerator. It is built with the purpose of cultivating the growth of its portfolio companies. The distinctive characteristics of startup accelerators from incubators are the five phases that a startup will have to undergo in an accelerator. These phases are awareness, application, program, demo day, and the post demo day. A startup accelerator is a program composed of mentorship, access to technology, innovative community, and office spaces. The goal of the accelerator is to twist the art of starting a business into a program that can be repeated over and over again.
Unlike the incubator programs, startup accelerators have programs that enable the individuals to avail mentorship, office spaces, funding, and technological advancement in exchange for the companies' stocks. The program is open to anyone but is highly competitive. Applications were thoroughly screened. The accelerators focused on teams instead of individuals. This is because of their belief that starting a business is not an individual job but is a job for a team. After three months, a start-up is expected to "graduate". After graduation, they are subject to intensive training and mentoring. By then, they are expected to learn rapidly. During the "Demo Day" the startups will present to investors.
Y Combinator
Y Combinator is the first seed accelerator founded in March 2005. It is an American seed accelerator that provides seed money, connections, and mentorship. The program lasts for three months and is conducted twice a year. In return for the program, the startups will have to give an average of 6% of the company's equity. Seed money is also known as seed funding, in which part of the business was purchased by the investors. It is called seed money to suggest that the fund is a form of an early investment to support the company until it can generate the money and fund for its own. Y Combinator was founded by Paul Graham together with his co-founders Robert Morris, Trevor Blackwell and Jessica Livingston.
Parts of the programs were weekly dinners which give a chance for the guests to talk with the founders. Over the years, Y Combinator has funded more than 500 different companies from over 30 different markets. In fact, the Y combinatory was named by Forbes as the top startup accelerator in 2012. Some famous startups that came out from Y Combinator are Dropbox, Weebly, Wepay, Airbnb, and others.
500 Startups
In 2010, 500 Startups was founded by an entrepreneur and prominent angel investor Dave McClure.  It is a seed accelerator with the incubator office located in Mountain View, California. Some of the famous startups from 500 Startups are ApprGrooves, Bug Herd, Cardinal Blue, Culture Kitchen, and many others. Over the years, 500 Startups has proven its worth to aspiring companies. The Startup founded has been successful in it purpose of helping the new businesses as well as earning a good profit out of the program.
TechStars
TechStars is another seed accelerator. It is a very meticulous accelerator in terms of selecting a company to invest with. There are seven TechStar programs in top startup locations like Boulder, Chicago, Boston, Seattle, London, Austin, and New York City. TechStars invest as much as $118K in each company as long as the company has passed the screening of TechStars.
AngelPad
AngelPad was founded by Thomas Korte, an ex-Googler. It is a mentorship program for startup businesses. The program aims to help mobile and web tech startups to create a better product. It is also programmed to help new businesses attract funding and grow successful businesses. The program provides a twice a year extensive mentorship to selected startups. The whole course covers 10 weeks. The offices of AngelPad are located in San Francisco and New York. The course offered by AngelPad to startups covers all aspects of launching a company.
The distinctive characteristics of AngelPad from other seed accelerators are the more personalized mentorship due to the smaller group, and the participation of mentors in fundraising.
SeedCamp
SeedCamp is the leading mentoring program and micro-seed investment in Europe. It is the most connected seed investor in the world. SeedCamp was launched in 2007 and now includes more than 100 promising startups in Europe. SeedCamp invests in about 20 startups every year all around the world.
OpenFund
OpenFund is a startup accelerator who invests in companies operating in Greece. It is associated with companies dealing with software, mobile platforms and the web. It provides mentoring and financial support for startup companies. It is aimed to fund startup businesses located anywhere in Europe.
The Pros, Cons, and Opportunities
In the early years of your startup company, every decision made is a major decision. One of these decisions is applying for a startup accelerator. There are several things to consider before deciding to apply in an accelerator program. The following are the pros, cons, and opportunities associated with the programs.
Pros
Connections
One of the important factors in the success of a company is connections. In joining a startup accelerator program, the company can be connected to potential investors and clients. The credibility of the startup accelerator can help a lot in advertising the name of the company. Experienced companies such as Microsoft know what works on specific demographics and what does not. Therefore, when one chooses an established accelerator, he or she will most likely gain successful connections with their target audience. This will enable them to reach those people who are most likely to be interested in their startup.
Team
When you join a startup accelerator, you and your teammates have a chance to really bond. What usually happens in startup accelerators is that everyone works hard. The environment can make them feel like they are with someone to rely on.
Reputation
Since joining the accelerator programs undergoes a meticulous screening, passing the application process is a good stepping stone in moulding a good business reputation for the company. Being in the accelerator program help the company attracts potential investors and clients faster.
Real Solutions
Accelerators handle real problems all the time. While most start-ups find it hard to penetrate to their target market, accelerators can anticipate possible problems. Likewise, they know these problems too well that the can offer real solutions that will majorly contribute to the start-up's success. This is done as the accelerators help startups build something that the customers want just the way they want it. There are some accelerators that conduct workshops that enable startups to have extensive communication sessions with some chosen customers. This may end the process of startups chasing customers to the other way around.
Network
Accelerators provide startups with strong networks. Start-ups will get the necessary guidance that they need from experts in their specifically chosen field, and amazingly powerful feedback from people who really know their stuff. Accelerators usually have more than a hundred of mentors who have been there and have done a lot of things where they gained their expertise. These experts can become the start-ups' friends, consultants, guides, advisers, and philosophers.
Speed
Aside from the quality, the speed is just as important. In business and startups, time is of the essence. Time is money. Therefore, accelerators create strong road maps to startup success with more focus on building the ideal company. In the process, unnecessary activities are minimized or eliminated. Accelerators are action-centred so more accomplishments are attained in shorter periods of time.
Cons
Extra Expenses
Although the accelerator programs offer financial support it is not for free. The accelerator is helping the company not only for the benefit of the company but as a form of investment for the accelerator. The company will grow but some of the profit might go to the accelerator.
Equity
Most accelerators demand about 5% to 10% equity for their services and benefits. This may sound low or small for newbies but people who are experienced with startups know that this is a big amount. Therefore, it is very important to conduct a thorough research about what the startup will get from the accelerator, so they can make a sound decision about whether it is worth it or not.
Not A Good Fit
Some accelerators are perfect for a specific kind of startup only. Therefore, startups should be very careful in choosing their accelerator. They should make sure that it is the best for the type of their startup.
Opportunities
The accelerator provides a good opportunity for startups. Especially for those who are starting from scratch which means they don't have enough capital and experience in business. Thus, opening a business can be lighter because of startup accelerators.